Champagne Cocktail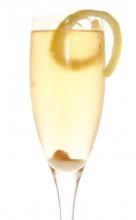 Classic is good, Champagne Cocktail fits that description. Perfect for almost any celebration, easy to set up and serve. Classics are classics for a reason!
Ingredients:
Chilled Champagne
2 dashes of Angostura® Bitters
1 sugar cube
Preparation:
Put the sugar cube in the bottom of chilled champagne flute. Put several dashes of bitters on the sugar cube. Fill with champagne and stir. Garnish with a lemon twist.