Chamborlada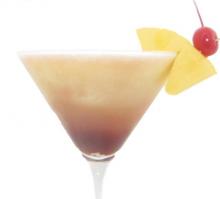 The Chamborlada is a fun twist on the classic Pina Colada.  The addition of the Chambord at the bottom of the glass adds a splash of color and an added layer of floavor making this drink an instant summer time hit!
Ingredients:
2 oz Light Rum
1 oz Dark Rum
3 oz of Pineapple Juice
2 oz Coconut Cream
2 oz Chambord
Preparation:
Pour all ingredients in a blender with ice except Chambord.  Take the Chambord and pour into the bottom of a large martini glass.  Pour in blended mixture the top with a little more coconut cream and float a cherry in the middle.