Chai Toddy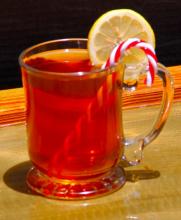 We love Chai tea, so the Chai Toddy makes perfect sense.  Warm and good for warming you up on a cold night it's everything you would want.
Ingredients:
1 1/2 oz Spiced Rum
1 Dash of Peppermint Schnapps
1 tsp Honey
4 oz Hot Tea (we used Chai tea)
Peppermint stick for garnish
Preparation:
Still all ingredients in a mug or stem glass.  Garnish with a peppermint stick and serve.