Cha Cha Cha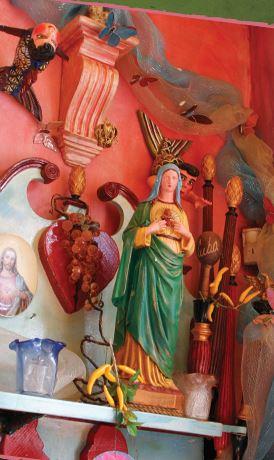 You can't miss Cha Cha Cha as you're driving north on Virgil Avenue through East Hollywood. With its bright pink exterior, and corrugated tin sculpture on the roof, neon script sign and potted palms, this little Caribbean restaurant could not possibly look more inviting.
Inside, it's even more dazzling. Two dining rooms have been decked out to look like Cuban cantinas. Virgen de Guadalupe paintings, replete with milagros of all shapes, hang from the pink and yellow walls. The strings of multicolored lights give the rooms a warm and cozy glow. An enclosed outdoor patio is available for brunch mornings or warm L.A. nights.
Cha Cha Cha is one of my favorite places to bring friends and visitors for weekend brunch or dinner. On weekend "Jungle Brunch" days they offer bottomless mimosas to complement their mouthwatering Cuban/Caribbean breakfast fare. Their chilaquiles are one of their signature dishes. Scrambled eggs with tortilla chips, guacamole, crème fraiche and tomatillo salsa. Delicious on their own (with a side of black beans, rice and fried plantains) but adding the jerk chicken really sends this dish over the top. The perfect mix of sweet, savory, spicy, and smoky. Absolutely heavenly.
Also, the homemade crusty bread that their huevos negros is served on is warm, fresh, and addicting. Perfect for mopping up the black-pepper spiced yolks from the poached eggs.
Come to Cha Cha Cha for dinner, and you've got plenty of options, including an extensive tapas menu that includes jerk pork, coconut shrimp, and goat cheese and guava quesadilla. You could also try one of their four sizeable paella dishes. The Andaluz features chicken, sausage, vegetables, and saffron rice, while the Valenciana contains pretty much every type of seafood you can think of – shrimp, scallops, mussels, clams, and other fish. Or go full veggie with the Paella Verde.
Much like I recommend any menu item that contains Cha Cha Cha's secret jerk seasoning, I also enthusiastically endorse their mole. Especially on the chicken. It strikes a sublime balance of chocolatey, earthy, spicy, and nutty.
If you come to Cha Cha Cha with a group of friends for dinner, it only makes sense to order a pitcher of sangria. The $20 pitcher easily serves a table of 5 two glasses each of the traditional Spanish red wine/fruit salad cocktail, with its sweet and tangy finish.
Cha Cha Cha has been around for almost 30 years, and has become a fixture of the Silverlake/Virgil Village neighborhood in Los Angeles. They are offering a few different Groupons right now, for discounts on tables of 2 or more. So if you live in LA, what are you waiting for? Cha cha cha right over to one of the best Caribbean restaurants around.
656 North Virgil Avenue
Los Angeles, CA 90004
Hours
Monday - Thursday 10AM - 10PM, Friday 10AM - 10:30PM,
Saturday 9AM - 10:30PM, Sunday 9AM - 10PM
Reservations 323.664.7723