Casino Royale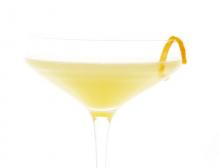 Based on a James Bond book, the Casino Royal is a classic sounding and tasting cocktail with all the ingredients of a first rate cocktail.
Ingredients:
1 oz Gin
1/2 oz Maraschino Liqueur
1 oz Fresh Orange Juice
1/4 oz Fresh Lemon Juice
Preparation:
Pour all ingredients into a shaker glass filled with ice.   Shake well and strain into a chilled cocktail glass and garnish with an orange twist.