Carolina Peach Sangria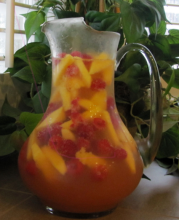 Great early summer drink for a party, fresh peaches are best but frozen will work in a pinch. Just be careful this one will sneak up on you if you're not careful. You need to start Carolina Peach Sangria takes a little planning ahead but it's well worth it!
Ingredients:
1 bottle rose wine
3/4 cup lemon vodka
1/2 cup peach nectar
6 tablespoons thawed frozen lemonade concentrate
1 pound ripe peaches, peeled and sliced
1 (6-oz.) package fresh raspberries
2 cups club soda, chilled
Preparation:
Makes about 9 cups Combine first 4 ingredients in a pitcher.  Stir in peaches and raspberries.  Cover and chill 8 hours.Stir in chilled club soda just before serving.