Candy Corn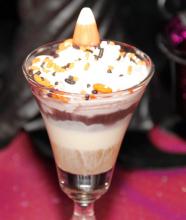 Candy Corn has long been a Halloween candy staple, now it is also a Halloween drink must have!
Ingredients:
¾ oz Bailey's® Irish Cream
¾ oz Butterscotch Schnapps
¾ oz Blavod® Vodka
Preparation:
Layer the ingredients in that order with a bar spoon.  Top with whipped cream, sprinkles and a candy corn.