Candy Cane Martini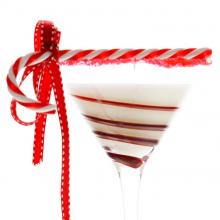 A creamy holiday cocktail that looks as pretty as it tastes.  This is a yummy holiday drink.  Add a candy cane tied with a holiday ribbon for a festive presentation.  Cocktail glasses can be prepared and chilled in the fridge the day before the event.  The syrup will swirl better if both the glass and syrup are chilled.  Stick back in the fridge and they will be ready for your party.   
Ingredients:
2 oz Pinnacle® Peppermint Bark Vodka
1 oz Trader Vic's® White Chocolate Liqueur
1 oz Half and Half
Strawberry Plate Scraper/Syrup
Preparation:
Pour all ingredients into a shaker glass filled with ice.   Shake well strain into a chilled cocktail glass that you have swirled strawberry plate scraper in for color.  Rim with red with sugar rimmer.  Garnish with a candy cane.