Bring It On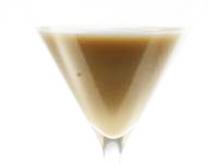 Bring It On is a drink for you cordial lovers. A great after dinner drink, it's perfect for a complement to a dessert or instead of a dessert. Trust me this one is really good!
Ingredients:
1 1/2 oz Bailey's Irish Cream ®
1 1/2 oz Frangelica ®
1 1/2 oz Grand Marnier®
Splash of Kahlua ®
Preparation:
Pour all ingredients in a shaker filled with ice shake well and strain into a chilled cocktail glass.