Brassy Blond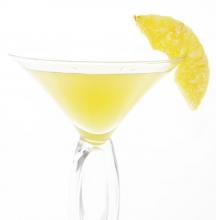 Lots of Citrus and Pineaple flavors make the Brassy Blond a good pool side drink.  You can serve in a cocktail glass or over ice with a little extra pineapple juice if you'd like to.
Ingredients:
2 oz Citrus Vodka
1/4 oz Cointreau®
2 oz Pineapple Juice
Preparation:
Pour all ingredients into a shaker glass filled with ice.   Shake well.  Strain into a chilled cocktail glass and garnish with a pineapple wedge.