Brandy Punch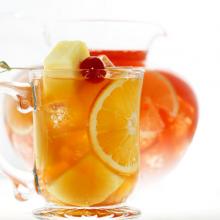 Great for any special occasion, Brandy Punch is a classic punch recipe.  It's great for all types of parties and events from weddings to holiday parties.
Ingredients:
3 Cups Champagne or Sparkling Wine
2 Cups Brandy
1/2 Cup Port
1/4 Cup Maraschino Liqueur
1/2 Fresh Lime Juice
1/2 Cup Pineapple Juice
Sliced Oranges, Lemons, Limes and add whole cherries
Preparation:
Champagne or Sparkling Wine, Brandy, Port, Maraschino Liqueur, Lime Juice, Pineapple juice with lots of fresh fruit this punch looks a good as it tastes.  Mix everything except the Champagne in a large pitcher and chill over night or at least 4 hours.  Set up the glasses with the fruit already in them and then add a ladle to fill the glasses.  Just beautiful.