Brandy Old Fashion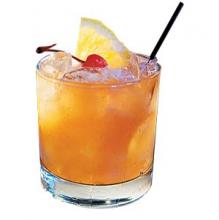 The original Old Fashioned recipe would have showcased the whiskey available in America in the 19th century, either Irish, Bourbon or rye whiskey. But in some regions, especially Wisconsin, brandy is substituted for whiskey,
Ingredients:
2 oz brandy
2 dashes Angostura® bitters
1 splash water
2 sugar cubes
1 maraschino cherry
1 orange wedge
To make it sweet add a dash of sweet and sour
Preparation:
Drop sugar cubes,
water and angostura bitters in an old-fashioned glass. Drop in a cherry and an orange wedge. Muddle into a paste using a muddler or the back end of a spoon. Pour in bourbon, fill with ice cubes, and stir.