Bramble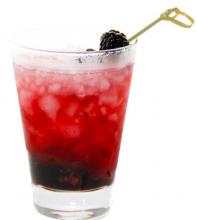 The Bramble was created in 1984 by Dick Bradsell at Fred's Club in London's SoHo. It's an 80's drink that is worth drinking! Dry Gin, Fresh Blackberries, Blackberry Liqueur, Lemon Juice and Simple Syrup.
Ingredients:
1 1/2 oz Dry Gin
1 oz Fresh Lemon Juice
1/2 oz Simple Syrup
Drizzle of Blackberry Liqueur (crème de Mure)
Fresh Blackberries
Preparation:
Muddle blackberries and lemon juice, add crushed ice and the gin and crème de mure.  Stir to combine and yum!  Garnish with blackberries.