Boxing Day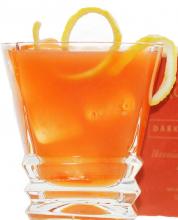 Bourbon and citrus make the perfect holiday blend.  This is an easy going cocktail that keeps a party going and can be sipped over a long evening.  The blood orange and lemon are a perfect balance to the sweet of the burbon and simple syrup.  This could easily turn into a year around favorite.
Ingredients:
2 oz Bourbon
2 oz Blood Orange Juice
1/2 oz Simple Syrup
1/2 oz Lemonade
Preparation:
Pour all ingredients into a shaker glass filled with ice.   Shake well.  Strain into a rocks glass over ice.  Garnish with an orange twist.