Bourbon and Whiskey Review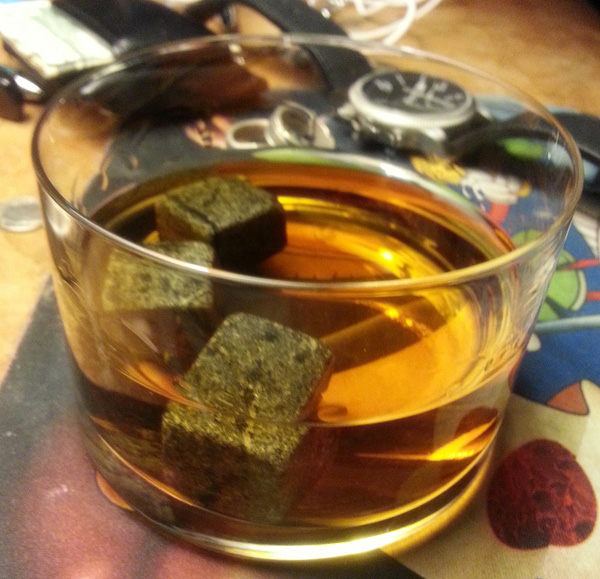 In my early day as an aspiring connoisseur of whiskey I thought that whiskey was whiskey and that no matter whether it was scotch whiskey, bourbon whiskey, or Tennessee whiskey it all had about the same flavor profile.  Then I moved to Louisville, Kentucky.  Luckily I was smart enough to keep my mouth shut long enough not to make a fool of myself right away.  It was there that I got my first introduction to the distinction between the breeds, so to speak.  Of course, being in Kentucky I learned that it was the only place that true bourbon comes from, anything from anywhere else was simply a pretender.  I sat there in awe at my local bar as an old timer spouted his hard earned bourbon gospel between sips of his chosen bourbon of that day, Woodford Reserve if I remember correctly but it was quite some time ago.  Since that day I have embraced the finer differences between each breed and decided to go out and discover the draw of each in its own right.  As for my own journey it started with Jack Daniel's usually in a Jack and Coke, no fruit, why taint something so wonderful with something as unnecessary as a garnish.  Then one day someone told me to try a Jack on the rocks with a twist, since that day I have not looked back. 
Once I started drinking my whiskeys straight I decided that it was time to start venturing out into those "expensive" brands and from there I started to appreciate the fine differences between each of the different small batch distillers and the care they put into their craft.  Since then I have discovered my favorite bourbon, Pappy van Winkle 15 year Family Reserve, which I could pick up at just about any liquor store in Louisville but never outside of the state, I recently discovered that they reason for this is that they only release very limited quantities a few times a year.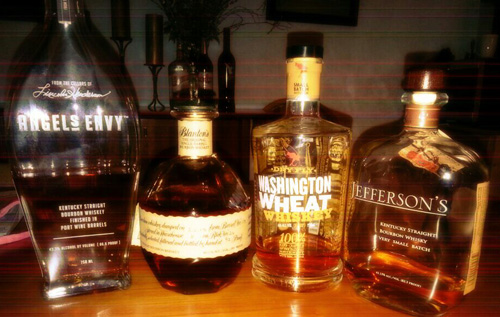 Today I have a section of fine bourbons and one whiskey, the whiskey comes from Washington state so according to my friends from Kentucky is not a true bourbon but it shares some of the underlying characteristics in my mind so I've added to this list.  First let's get the whiskey out of the way.  This is Dry Fly Washington Wheat Whiskey, a hand crafted small batch distiller out of, you guessed it, Washington.  With a light airy scent this whiskey belies its power, then once it hits your tongue you get just a hint of sweetness and a great corn flavor ending a smooth clean finish that leaves you reaching back for a second sip.  While this whiskey is tasty enough to stand on its own, it also has the smooth taste and flavor profile that would make it perfect for a classic cocktail such as a Whiskey Old fashioned.  By this I mean not the overly sweet concoction you are likely to get from some new bartender but rather the more traditional incarnation with just bitters a sugar cube and perhaps a garnish of orange. 
Second up is Jefferson's, a Kentucky straight bourbon whiskey made in very small batches.  This bourbon has a very faint sweet scent which is almost disconcerting, no smell usually means no taste, but then you taste it and things get really interesting.  Aged in lightly charred barrels so as to allow an assortment of flavors to show through making for a smooth clean taste that appeals to both the novice taster and the seasoned veteran.  Having hints of the char that is distinctive of whiskeys this bourbon also has the traditional sweetness that one would expect from a fine bourbon, a smooth finish leaves you with a multitude of flavors that will keep you going back for seconds searching for words to describe each and every one.  The wonderful finish and smooth taste of this bourbon make it perfect for sipping, with perhaps just one ice cube to chill it and help to unlock all of those intriguing flavors, or in a traditional bourbon drink such as a Mint Julep. 
Next up on the block is Angel's Envy Kentucky Straight Bourbon Whiskey finished in port wine barrels, a microblend which they are constantly "tinkering" with, as they call it, to produce the finest quality bourbon they can possibly offer.  With a distinctly port aroma, for a bourbon, Angel's Envy has a smooth slightly sweeter than average taste that distinguishes it from other bourbons.  The sweetness is not at all saccharine or cloying but rather a different variety than more traditional bourbons, and the smooth rich flavor definitely conjures up memories of a glass of port after dinner, but with so many other layers this bourbon is perfect replacement for that port after dinner.  I would recommend this bourbon either on the rocks or up with a true twist of lemon, just the rind no actual fruit, to help accentuate the sweetness giving something it to play off of. 
Last but by no means least, is Blanton's the original single barrel bourbon whiskey, proudly proclaimed on the label.  Each bottle is hand labeled with the date it was "dumped" and the batch from which it came from as well as the proof at which it was hand bottled.  This particular bottle was dumped on 2-16-13, from barrel no. 113 stored in warehouse H at 92 proof.  This bourbon has a very traditional essence, with a subtle sweet scent leading to a clean bourbon taste.  This bourbon is a no frills liquor that makes it stand out in its simplicity.  The flavors that you taste are exactly what you would expect from a bourbon, just a hint of a sweet molasses flavor followed by an incredibly smooth finish that leaves you completely content, that is until you realize that you have more and then you cannot wait to experience this all over again.  I would recommend this bourbon to be enjoyed straight, possibly with whiskey stones if you have them, so as to not diminish the wonderful flavor profile that they so painstakingly create. 
Overall each of these whiskeys have wonderful flavors and each is unique in its own way and therefore I do not have a favorite, however if I was going to make a whiskey cocktail I would choose the Dry Fly simply because it has a flavor that would coincide well with other ingredients, for a traditional bourbon drink I would choose the Jefferson's due to its solid stand up flavor that wouldn't be hampered by mixing, and if I wanted a bourbon to sip I would have to choose between the Blanton's and the Angel's Envy depending on my mood.  Lucky for me I have a bottle of each so that I don't have to pick just one but if you are out and need just one I hope this has given you some insights into what each brings to the table.
For more information on each of these fine spirits please visit their websites:
Dry Fly:
http://www.dryflydistilling.com/
Jefferson's:
Angel's Envy:
http://www.angelsenvy.com/?/home
Blanton's: