Boston Cooler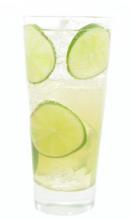 This refreshing drink has the perfect balance of sweet and sour, making it perfect for a warm sunny day.  Although its name is a bit of a contradition, no one in Boston ever wishes it was cooler, the Boston Cooler is bound to please.
Ingredients:
2 oz Light Rum
1/2 oz Simple Syrup
1 oz Fresh Lemon Juice
Sparkling Water
Preparation:
Pour all ingredients except sparkling into a shaker glass over ice and shake until chilled.  Top with sparkling water.  Pour over ice in a Collins glass and garnish with lemon and lime wheels.