Bomb Ass Mix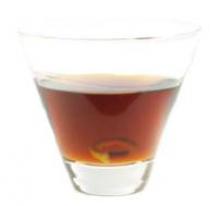 The whiskey version of a very strong martini, Bomb Ass Mix is a kick in the ass to be sure. Great on the rocks or chilled in an up glass a little something for our whiskey loving friends!
Ingredients:
2 oz Scotch
2 oz Whiskey
1 oz strawberry liqueur
Dash of bitters
Preparation:
Pour all ingredients into a shaker glass filled with ice. Shake well. Strain into a chilled cocktail glass, garnish with a twist.