Blue Lagoon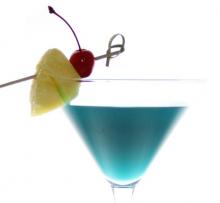 This tropical treat is perfect for a day on the beach or a day where you'd like to pretend to be at the beach!  The Blue Lagoon is a tasty summer cocktail that will have you longing to feel your toes in the sand and the sun on your face.
Ingredients:
2 oz Vodka
1 oz Blue Curacao
¼ oz Triple sec
2 oz Pineapple Juice
Pineapple flag
Preparation:
Mix all in a shaker with ice.  Strain into a chilled cocktail glass and garnish with a pineapple and cherry flag.