Bloody Bones Martini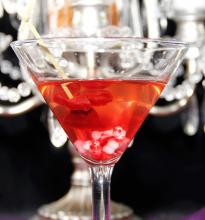 The Bloody Bones Martini is a fun twist on a beet martini, much more delicious than it sounds to those who are adverse to veggies.  Adding the bones and beet pieces give this drink the perfect feeling for Halloween!
Ingredients:
2 1/2 oz Absolut
1/4 Dry Vermouth
2 pieces of pickled beet
Preparation:
Into a mixing glass, toss a handful of ice cubes then pour in the Absolut and the Vermouth.  Stir well or some may prefer shaken!  Strain and pour into a martini glass.To finish, drop a small amount of beet juice and some plastic bloody bones into the drink.