Blood Orange Mojito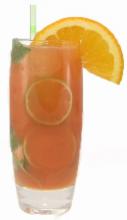 Some times you just need a bloody good drink! Blood Orange Mojito fills that spot and then some. Try it out and you may never go back!
Ingredients:
2 oz Rum
3/4 Simple Syrup
3/4 Fresh Lime Juice
4 oz of Blood Orange Juice
Fresh Mint
Preparation:
In shaker muddle mint, simple syrup and lime.  Add ice and all the ingredients and shake well.  Strain all ingredients into glass with ice.  Garnish with mint, limes and an orange wedge.