Blood Orange Mist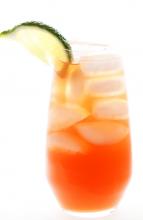 Blood Orange Mist - This drink is strong enough to keep you going far into the night.  This is a great drink for a late afternoon pool party.  In a tall glass with lots of sparkle from the San Pellegrino this will be the hit of any summer party.
Ingredients:
4 oz Gin
2oz Blood Orange Liqueur
San Pellegrino® Blood Orange
Preparation:
In a tall Collins glass over ice pour Gin and Blood Orange Liqueur.  Fill with San Pellegrino Blood Orange and stir.  Add squeeze of lime and garnish with a lime wedge.