Blood And Sand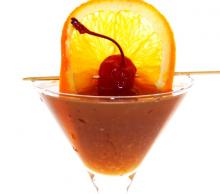 Blood and Sand is a scotch based cocktail introduced in 1922. It was named for Rudolph Valentino's 1922 bullfighter movie Blood and Sand.  It looks like blood and sand mixed but tastes delicious.
Ingredients:
1 oz Scotch
1/2 oz Kirshwasser
1/2 oz Sweet Vermouth
1/2 oz Fresh Orange Juice
Preparation:
In a shaker glass shake over ice and strain into a chilled cocktail glass.  If desired garnish with an orange and a cherry.