Blinker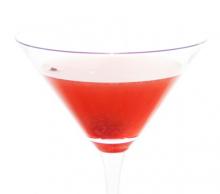 This citrus flavored cocktail has just the right amount of sweet and tart.  The Rye and the grenadine add just enough sweet to counter the tart of the grapefruit juice.
Ingredients:
2 oz Rye
2 1/2 oz Grapefruit Juice
1 tsp Grenadine
Preparation:
In a shaker glass shake over ice and strain into a chilled cocktail glass.  If desired, garnish with a cherry.