Black Russian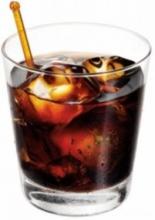 Black Russians first appeared in 1949, and is ascribed to Gustave Tops, a Belgian bartender, who created it at the Hotel Metropole located in Brussels in honor of Perle Mesta, the US ambassador to Luxembourg.  The cocktail name stems from the use of vodka, a stereotypical Russian drink and the blackness of the coffee liqueur.  The drink remains popular even today with its strong taste and great kick.
Ingredients:
1 1/2 fluid ounces Vodka
1 1/2 fluid ounces Kahula
Preparation:
In a rocks glass pour vodka and
Kahula
over ice. Blend by shaking, serve.