Black Magic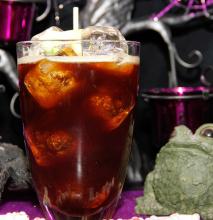 A great party drink, the Black Magic is fun and easy to drink.  The Caramel apple soda makes it perfectly suited for Halloween parties.
Ingredients:
1 oz Vanilla Vodka
½ oz Kahlua®
1 cup Caramel Apple Soda
Squeeze of Lemon juice
Preparation:
In tall rocks glass add vanilla vodka and Kahlua.  Pour over Caramel Apple Soda and add a squeeze of lemon.