Black Gold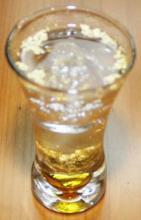 The Black Gold is a spicy shooter with a kick, the edible gold adds to the effect, making this shooter exude luxury.
Ingredients:
2 oz Ciroc Vodka
Sprinkle of ground black pepper
Sprinkle of editable gold flakes
Preparation:
Chill Vodka in a shaker with ice. Strain into a shot glass and then sprinkle black pepper and gold flakes.  Shoot!