Black Fall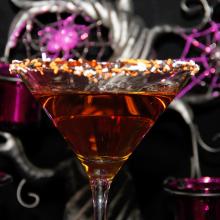 The Black Fall is the perfect dessert drink for a Halloween party.  Sweet and smooth this drink is well suited to the fall flavors and moods.
Ingredients:
1 oz Brandy
1 oz Cognac
1 oz Sambuca
Splash of Cointreau®
Preparation:
Mix all ingredients in a shaker over ice.  Strain into a chilled cocktail glass that has been rimmed with chocolate syrup and Halloween sprinkles.