Black Dog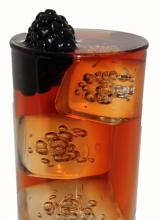 Sweet and smooth, the Black Dog is the perfect drink to enjoy while sitting on your porch on a summer's evening in the company of your old black dog.
Ingredients:
3 oz Jim Beam® Bourbon Whiskey
1 oz Dry Vermouth
1/2 oz Blackberry Brandy
Preparation:
Pour all ingredients into a shaker glass over ice and shake.  Strain into a highball glass over ice.