Black And Blue Margarita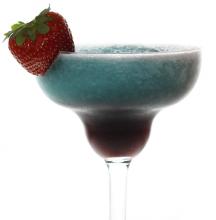 Not only does this margarita taste great but it is beautiful to look at!  This will be a hit of any party.  Blueberry liqueur on the bottom and margarita on the top.  Add a strawberry and a party and you're ready to go.
Ingredients:
2 oz White Tequila
1 oz Blue Curacao
1/2 oz Grand Marnier®
3 oz Lemonade
3/4 oz Blackberry Liqueur
Preparation:
Combine all ingredients in a blender with ice except blackberry liqueur.  Blend till frozen.   Pour the blackberry liqueur in the bottom of a margarita glass, then top with frozen margarita mixture.  Garnish with a strawberry for extra color.