Bijou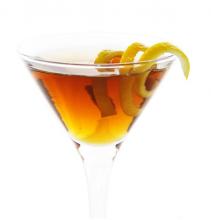 Bijou means "jewel" in French.  This cocktail is called Bijou because it combines the colors of three jewels: gin for diamond, vermouth for ruby, and chartreuse for emerald.
Ingredients:
1 1/2 oz Gin
1 oz Green Chartreuse
1 oz Sweet Vermouth
Dash Orange Bitters
Lemon peel
Preparation:
In a shaker glass shake over crushed ice and strain into an chilled cocktail glass – garnish with a lemon twist and a cherry – sip and enjoy.