Between The Sheets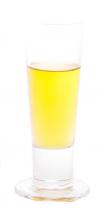 The Between the sheets is a wonderfully simple cocktail that is perfect to sip or shoot.  This drink will definitely have you wanting to get between the sheets, whether alone or with some company is up to you!
Ingredients:
1/2 oz Brandy
1/2 oz Cointreau®
1/2 oz Rum
Splash of Lemon Juice
Preparation:
Shake all ingredients over ice and strain into a shot glass.  Shoot or sip your choice!