Beer Top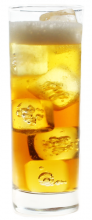 Beer Cocktails are making waves in the mixology community. With all the delightful craft beers out there it is no wonder they are being used as mixers. We used a pale ale for this example. Beer Top may be a little strange but it tasted surprisingly good.
Ingredients:
4 oz beer
1 oz Midori®
1 oz Cranberry Juice
Preparation:
Pour Midori® and Cranberry juice into a collins glass over ice and shake. Add beer to fill.