Bee's Knees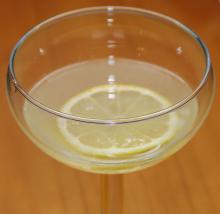 Bee's Knees was slang in the 20's for something new and fresh, this drink was mostly likely named for that saying. We used Raw Organic Orange Blossom Honey to make the honey syrup. There are different raw honeys and they will carry with them the flower flavor so experiment if you're a honey lover.
Ingredients:
2 oz Gin
3/4 oz Raw Organic Orange Blossom Honey Syrup
1 oz Fresh Lemon Juice
Preparation:
To make syrup mix equal parts honey and hot water, stir until dissolve
d well in a shaker with ice and pour into a chilled cocktail glass.  Garnish with a lemon wheel.