Basil Blueberry Lemonade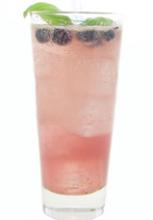 Cool light and one of the best of the new summer drinks. We tested it with Rum, Gin and Vodka. All were great! Perfect for a brunch or a poolside party.
The club soda adds some sparkle and keeps the flavors light. The blueberry and basil hit the right notes together creating a drink that is not too sweet but still refreshing. So add your spirit of choice and enjoy.
Ingredients:
2 oz of Rum, Vodka or Gin
1/2 oz Simple Syrup
1/4 cup Blueberries
4 med sized Basil leaves
4 oz of lemonade
Splash of Club Soda
Preparation:
In a large glass shaker muddle blueberries and basil. Add all liquid ingredients except soda. Stir and strain into a collins glass filled with ice. Top with club soda. Add a few blueberries and garnish with a piece of basil.