Bahaman Breeze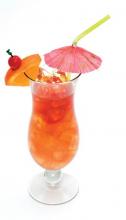 Bahaman Breeze sweet and tropical this drink is the perfect summer punch that also mixes up great as a batch!
Ingredients:
1 oz dark rum
1 oz coconut rum
½ oz apricot brandy
½ oz banana liqueur
¼ oz grenadine syrup
¼ oz honey
½ oz lemon juice
1 oz orange juice
1 oz pineapple juice
Preparation:
Blend all the ingredients in a blender with 2-3 ice cubes and mix. Pour over ice in a hurricane glass. Wedge of orange and cherry, to garnish. Find a pool and an umbrella - enjoy
Batch-
2 cups Dark Rum 
2 cups Coconut Rum 
1 cup Apricot Brandy 
1 cup Banana Liquor 
1/2 cup grenadine 
1/2 cup honey 
2 cups Orange Juice 
2 cups Pineapple Juice 
Makes about a gallon and a half of punch.