B52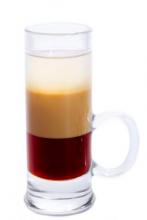 It's a band, it's a drink, it's the 80's. B52's were and remain popular shooters. There are many variations to this drink; it's usually layered by hand in a shot or sherry glass. Very tasty and on the too rich sweet side it remains one of the more popular bar shots.
Ingredients:
1 ½ oz Kahlua®
1 ½ oz Baileys®
1 ½ oz Grand Marnier®
Preparation:
Layer in a shot glass and serve with a stirrer.