Azure Lemonade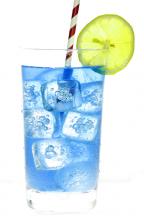 Pretty as an ocean view, this drink is light and sweet, just in time for spring and summer.  Great to look at think beach or pool party  It also works well as a punch. 
Ingredients:
2oz Citron Vodka
1 oz Vanilla Liqueur
3/4 oz Blue Curacao
3 oz Lemonade
Squeeze of Key Lime
Preparation:
In a shaker over ice mix all ingredients and then shake till well chilled.  Pour into an tall glass with ice.