Aviation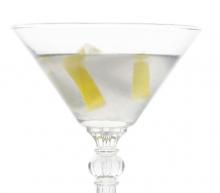 This drink popular in the 1920's was named for the dash of Crème de Violette which gives the drink it's pale blue color.  A very classic gin drink, it is very simple and period appropriate.  It is a drink that you pull out to impress your fiends with your knowledge of classic mixology.
Ingredients:
2 oz Gin
1/2 oz Maraschino Liqueur
Dash of Crème de Violette
1/2 oz Fresh Lemon Juice
Preparation:
In a shaker with ice mix all ingredients well.  Strain into a chilled cocktail glass with a flamed lemon peel.