Ass Smacker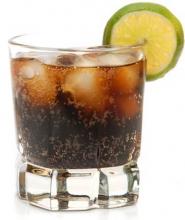 Ass-Smacker is a drink that sneaks up on you. It shouldn't be good but it is. The crème de menthe gives it just the edge it needs to take it past the normal rum and coke. Great conterpoint to the dark rum. Give it a try.
Ingredients:
2 oz dark rum
1 oz white crème de menthe
Cola to fill
Preparation:
Pour dark rum and crème de menthe over ice in a highball glass and fill with cola.  Garnish with a lime wheel.