Americano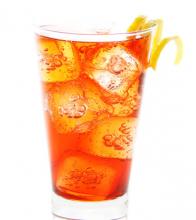 The Americano is the first drink ordered by James Bond in the first novel in Ian Fleming's series, Casino Royale, so for all of you who thought spies only drank martinis think again!
Ingredients:
1 1/2 oz Sweet Vermouth
1 1/2 oz Campari®
Sparkling Water
Lemon twist
Preparation:
Pour vermouth and Campari® into a highball glass over ice.  Fill with sparkling water and stir.  Garnish with a lemon twist.