Amaretto Sour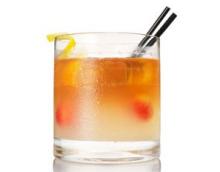 Amaretto Sours - are great for those before dinner drinks.  Smooth, sweet/sour and light they are the perfect drink to get the party started and keep it going.  While there are some Amaretto's out there we still always reach for Amaretto de Saronna.  Sometimes the classics are classics for a reason.
Ingredients:
1 1/2 ounces Amaretto
1 ounce simple syrup
3/4 ounce fresh lemon juice
Preparation:
In a shaker add the ingredients along with ice and shake well.
Strain into a rocks glass filled with ice and garnish with an orange slice/lemon twist  and cherry.