Amaretto Sangria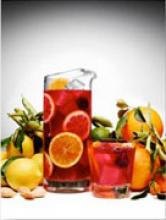 A recipe from our friends at Ciroc, the Amaretto Sangria is a perfect party drink for your late summer and early autumn parties.  Nice and fruity this drink is sure to please even the pickiest of your party goers.  If you want to make a single serving divide each ingredient by 10.
Ingredients:
10 oz Ciroc Amaretto
10 oz Pinot Noir Wine
5 oz Orange Liqueur
5 oz Simple Syrup
5 oz Fresh Lemon Juice
15 oz Sparkling Water with Lemon
Preparation:
Stir over ice in a 64 oz pitcher, add fresh fruit slices to taste.