Alabama Slammer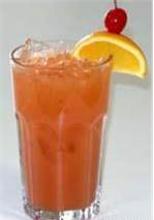 The Alabama Slammer is perfect for those SEC parties or any football parties. Good as a punch or as a stand alone drink, the Alabama Slammer is a fun drink that won't knock the socks off too early in the game.
Ingredients:
1 oz Southern Comfort
1 oz Amaretto
1/2 oz Sloe Gin
1 Squeeze of Lemon Juice
Splash of OJ
Preparation:
Pour all ingredients (except for lemon juice) over ice in a highball glass. Stir, add a squeeze of lemon and serve.