Agave Margarita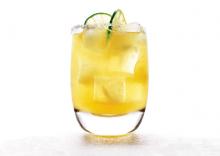 One of our favorite Margaritas, the Agave Margarita pure, classic with just the right amount of bite. Also, it's a great Margarita for dressing up or down. Add and play with other flavors and test the best tequila for your taste buds. There is no one right one, just the one that is right for you.
Ingredients:
1 ½ oz white tequila
1 oz agave syrup
1 oz fresh lime juice
Preparation:
Pour some rimming salt into a small dish. Run lime around the outside of a rocks or cocktail glass. Dip rim of glass into salt add ice.
Combine tequila, agave syrup, and juice in a cocktail shaker; fill with ice and shake well. Strain into prepared glass. Garnish with a lime wheel.