100 Miles Per Hour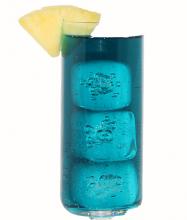 This drink will make you feel like you slammed into a brick wall at 100 miles per hour if you drink too many so imbibe carefully!
Ingredients:
1/2 oz Wild Turkey® Bourbon Whiskey
1/2 oz Bacardi® 151 Rum
1/2 oz Southern Comfort ®
1/2 oz Yukon Jack® Canadian Whiskey
2 oz Blue Curacao liqueur
1/2 oz grenadine syrup
Preparation:
Pour all ingredients into a shaker glass over ice and shake. Pour into a tall glass with ice and top with sprite and garnish with a pineapple wedge.